Services for Senior Facilities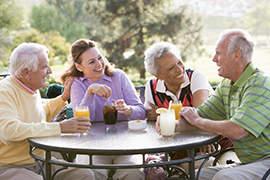 Even though your loved one with dementia is in the very best facility, there are a variety of reasons why he might need more one-on-one attention than the facility can offer him. Tender Rose's team of Memory Care Professionals work with clients who currently live in senior care facilities. We offer the following types of care:
Rescue Care: When your loved one with dementia exhibits challenging behaviors that threaten his status with his place of residence, Tender Rose can provide MCPs to overcome refusal of care, stabilize the situation and work ongoingly with the client to maximize their quality of life.
Sundowners Care: People living with dementia often become increasingly agitated during certain periods of the day, most notably during the hours the sun is setting. Tender Rose can provide MCPs to stay with a dementia patient in his facility during the times of day when he is most agitated.
For more information about how we work with people suffering from dementia in their senior care facilities, contact us today.