Dementia Home Care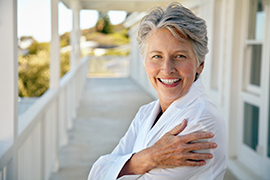 If you're overwhelmed by the responsibility of caring for your loved one with dementia, we understand—and we're here to help. No matter how far along your loved one is in the progression of her disease, she can still have a high quality of life.
Thriving in the Present Moment
Your loved one with dementia may not remember what happened 5 minutes earlier or be able to predict what will happen 5 minutes from now, but she can live in the present moment. In the present moment, your loved one can have joy and meaning in her life. It's our job to deliver that for our clients. We do that by engaging in the activities that will bring our clients the most joy, whether that's taking a walk, baking cookies or playing with the dog.
In-Home Dementia Care Services
In a nutshell, we provide in-home care for people with dementia who need a lot of care (8 hours or more per day) over a longer period of time (at least a month or longer). Our caregivers (Memory Care Professionals) are unlike any other in the industry: we carefully screen, train and support our team so they are free to concentrate on your loved one's care. Read more about our MCPs.
We Offer Two Levels of Care:
Companion care:

This level of care is just what it sounds like—we offer the client companionship, through the lens of our

Care in Full Bloom

philosophy.
Personal care:

This level of care includes companion care but also thoughtful, compassionate assistance with toileting and bathing.
The Investment
We think our value is evident in our clients' abilities to thrive. Our pricing differs from traditional home care agencies, for the simple reason that we pay our caregivers a higher wage. We do this so we can hire and retain the best people, and so they can be free to focus all of their attention on their clients rather than worrying about financial difficulties or working multiple jobs. When you work with a Tender Rose Memory Care Professional, you're investing in your loved one's present and future. For everyone involved, it is truly a long-term relationship intended to improve the quality of life of the client and his family.
Another aspect of our business model that causes our pricing to differ from other traditional home care agencies is that we invest a lot of time upfront in making sure that the introduction of our memory care professional goes smoothly. We do our research on your loved one, fill out a thorough assessment and create a care plan, so the MCPs who care for your loved one are the right fit. The benefits of this up-front assessment are tremendous, and include the ability to overcome a patient's resistance to receiving care, mitigating and relieving challenging behaviors, and restoring peace and harmony to your family's daily functioning.
No matter how challenging things get, we can help your loved one have a good day every day.
Let's talk about your loved one with dementia to see if we can help.