This far into the COVID-19 crisis, you probably don't need tips for avoiding what the World Health Organization calls a disease of "alarming levels of spread and severity." But what you may need—considering how lethal COVID-19 is in people 65+ with underlying health conditions—is help protecting your loved one in the hospital.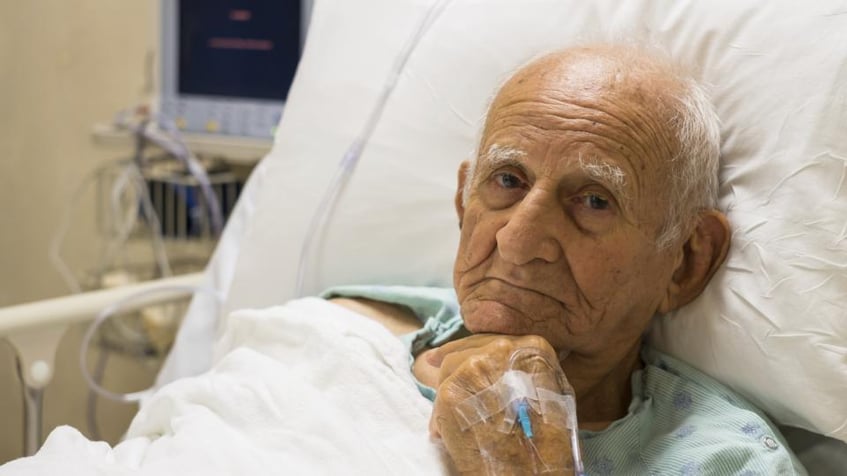 The hospital is no one's idea of a safe place right now, and the situation is even more dangerous when a patient is living with dementia. Your loved one may forget to wash hands, wear masks, and take other vital precautions, and their confusion could be heightened by the change in routine, surroundings, and caregivers.
Here are five tips to help you manage care if your loved one with dementia needs to go to the hospital for non-COVID-related treatment.
1: Create a "go bag."
Keep a bag by the door that you can easily grab in an emergency. If possible, the bag should contain a smartphone or tablet and charger labeled with your loved one's name and your phone number (more on the importance of technology below). Also include a list of medications and instructions, as well as anything that might keep your loved one calm in an unfamiliar setting—especially if you're unable to be with them at the hospital.
2: Manage your expectations around visitation.
To cut down on exposure for staff and patients, many hospitals aren't allowing visitors (although exceptions are made in certain cases). Facilities who do allow visitors require extreme caution. Ask about the visitation policy and follow the rules—the last thing you want is to become ill yourself or spread a deadly disease to vulnerable people.
3: Determine a point of contact.
Make sure the hospital has the name and number of a single point of contact. If possible, that person should also be legally authorized to make important healthcare decisions. Ask when and how often to expect updates. And remember that most hospitals are physically and emotionally overwhelmed right now. Helping them streamline communication will ultimately help your loved one too.
4: Plan on connection.
A hospital stay can create health repercussions beyond the condition being treated. To help ward off isolation, confusion, depression, and stress, try to stay connected especially if in-person visits aren't allowed. This is where a smartphone (or tablet/laptop) in your go bag comes in. If your loved one can manage the technology, video chat as often as possible. If they can't, ask the hospital staff to facilitate. Here's a helpful breakdown of virtual resources and how to access them.
5: Write down EVERYTHING.
The complexity of the healthcare system may be heightened by the pandemic and your loved one's dementia. Keep a record of everything in order to keep things straight. Dedicate a journal for keeping detailed notes about who's who on the hospital team, phone numbers, questions, treatments, diagnoses, and anything else that comes up.
Being in the hospital right now isn't ideal, but these tips can help make it safer and less disruptive. For more information on managing dementia care during the pandemic, visit AARP, the Alzheimer's Association, and UCSF's Memory and Aging Center.