Family Caregivers
Caring for a loved one with dementia can be overwhelming. It doesn't have to be.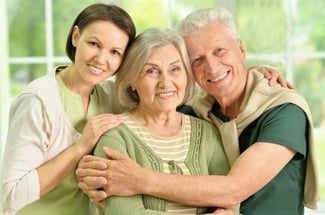 Whether it's your spouse, mother, father or another beloved family member suffering from dementia, you want to know he or she is getting the best in-home care possible. When you need consistent, reliable care from compassionate Memory Care Professionals (MCPs) who truly understand dementia, we can help.
What Our Clients Say
"I was desperate. I had a really serious situation. The old caregivers were just unsuitable, and it snowballed. It became worse and worse until I could no longer tolerate it. Before I started with Tender Rose, I was doing everything. I couldn't do it anymore. Once Tender Rose took over, it's been heaven. It really has."
- Client's Wife
"Please pass our sincere appreciation to the entire team on how much it means to our family to have such caring and thoughtful women in our lives at this time. Mom and Dad are enjoying their journey together in a way that was not thought possible a year and a half ago. Thank you."
- Client's Daughter
Why Should I Choose Tender Rose?
My current caregiver is a poor personality match. She focuses on essential tasks but does not connect with my mother.—Tender Rose's MCPs will take a personal interest in your mom and engage her in those activities that have always brought her joy and meaning.

When my husband's caregiver is here, I feel uncomfortable in my own home.—With Tender Rose, you don't have to tiptoe around our MCPs. They know they are guests in your house, and their job is to improve your quality of life as well as your husband's.

My father keeps asking his caregivers to leave because none of them have been able to bond
with him.—With Tender Rose, you will not have a revolving door of caregivers because our MCPs understand dementia and have been trained in techniques to overcome refusal of care.

My wife's caregivers are not sensitive to the little things that really upset her, and once she gets angry, they don't know how to calm her down.—Tender Rose MCPs are trained to identify and avoid triggers for agitation. However, if your wife does become agitated, they also know how to skillfully redirect her.

My mother-in-law's caregivers are frequently late and sometimes don't show up at all.—Tender Rose sets the highest standards for punctuality and schedule reliability, and we only hire MCPs who have a good track record in their previous jobs. Our MCPs will clock in using your home telephone, and their manager will be notified if they're even one minute late.
Even though your loved one has dementia, he or she can thrive, and so can you. The next step in getting your life back to normal and adding joy and meaning to your loved one's days is to call Tender Rose for a free consultation. Contact us today.