Professional Caregivers
It's no accident our Memory Care Professionals are the best in the industry.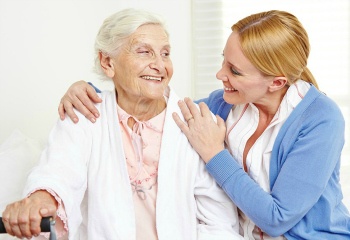 When Jim Kimzey started Tender Rose, he had one goal in mind: find out how to provide the best possible care for seniors living with dementia. From experience, he knew one factor made all the difference: the caregiver.
At Tender Rose, we seek out the very best professional caregivers in the San Francisco Bay Area, offering higher compensation and more stable working conditions than other comparable businesses. We also offer training in dementia care and the support of an experienced team of care managers, so you can develop an industry specialty and skills that set you apart from the crowd. Our Memory Care Professionals (MCPs) are the heart and soul of our company, and we throw our full weight behind each and every one of them.
"As the son of a dementia sufferer, the only thing I care about is who walks through the front door to take care of my mother. It's all about the caregiver. You have to have good people walking through that front door, people the family can trust, people who have the skills to work with somebody who has dementia and somebody who's going to actually improve their quality of life. You also need the same person to keep walking through the door every day and not a different person every week."
-Jim Kimzey, CEO, Tender Rose Dementia Care Specialists
Why Tender Rose?
In the past, you may have received nothing more than the address of a new client and been told what time to show up at the front door. Having so little information can be scary. Tender Rose puts every new MCP through an onboarding program that includes paid job shadowing, so you're never in an uneasy situation with a new client.

It's hard to make a difference in your clients' lives when you only see them for 2 or 3 hours a week. Tender Rose only serves clients who need long-term dementia care (a minimum of 8 hours per shift, 40 hours per week), so you can stay with the same client for longer periods of time, drive around less and have a more meaningful impact on your clients' lives.

At Tender Rose, we offer our MCPs the best compensation in the industry, with paid training, increased compensation for challenging cases, and a generous employee referral program.

You can't do your job well when you're in an unhealthy situation in a client's home. At Tender Rose, we work to match you with the right clients who you can have a positive impact on, so you're never in a situation that's uncomfortable or abusive.
If you are compassionate, have experience with dementia care, and love to smile, you might be a good fit for Tender Rose. Take the first step toward a more fulfilling career by reading our MCP job description or applying online.