Geriatric Care Managers
You want your clients to be happy and safe with their dignity intact. We feel the same way.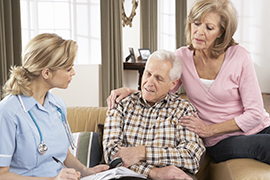 As a Geriatric Care Manager, it's your job to find the right caregiver for your clients with dementia, but most caregivers don't specialize in dementia care and can't handle the most challenging cases. In addition, when you recommend a home care agency to a client's family, your reputation is on the line. You need to be sure the caregivers you recommend are deserving of your recommendation. When you have a challenging dementia client who needs a lot of care over a long period of time, Tender Rose can help.
"When there's a really, really tough case, there's very few agencies that are truly great. So, the issue becomes finding the agencies that communicate well, that have owners with the same values I have, who have good caregivers, and who are consistent. All of those things I have found to be true about Tender Rose. Their caregivers just fit with our clients."
- Lynn Goehner, Eldercare Specialists
Why Tender Rose?
When other caregivers can't overcome your clients' refusal of care, we can. Our Memory Care Professionals (MCPs) have a successful track record of handling dementia-related aggression and resistance to care.

We have a proven track record of success and partner with leading organizations in the aging community.

Working with caregivers who can work well together makes your job easier. Tender Rose takes teamwork seriously and hand-picks caregivers who work well as part of a team.

You need a one-on-one care agency that supports its caregivers. Our leadership team includes a seasoned care director and a team of experienced care coordinators who support our Memory Care Professionals 24/7.
Your clients depend on you to make best-in-class recommendations. Our Memory Care Professionals (MCPs) are industry leaders in one-on-one dementia care, making them the perfect match for even the most challenging dementia cases.
Do you have a client who could benefit from best-in-class in-home dementia care? Contact us to find out how we can help.